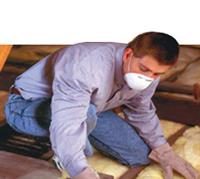 Product by:
The Roof Insulation Company


Here at The Roof Insulation Company, our team recommends investing in energy star rated insulation and ventilation for a more energy efficient home.
In fact, adding insulation to your block walls in your basement, the outside walls of your home and in the roof can really help with your heating and cooling bills.
For the roof, it is important to have the proper ventilation as well. This is because once your add insulation to the roof for warmth, you would you still need cold air to enter the roof to keep your home more efficient. In the winter with the proper flow of air in the roof will help keep the roof cool and this will reduce the potential for ice damming.
In the summer, natural air flow in a well-ventilated attic area along with the proper vents and or ventilation fans will help move the heated air out of the attic. This will protect the roofing and also assists in getting the moisture out.
We also recommend investing in Solar Powered Ventilation Fans whilst also making use use of the natural power of sunlight to help cool the attic. A well insulated and ventilated attic will keep your home thermally comfortable.
Please use the Contact form on the right for Energy Star rated Insulation and Ventilation information and ordering.