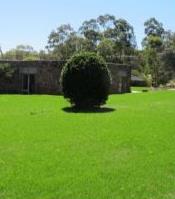 Product by:
Victorian Hydroseeding


Here at Victorian Hydroseeding, our team is one of Victoria's largest provider of hydroseeding services. We service all industries - from government to commercial and private clients.
We feature a comprehensive range of landscaping solutions to our clients throughout the state of Victoria. The products that we use are of the top quality because we believe that our clients deserve the best. This includes: Seeds, fertiliser, Seed starters and paper products.
We are also here to provide professional advise about seed varieties, Gardening and plant cultivation.
We are the leading providers of quality turf products like seed, plant nutrition, seed starters and fertiliser. We always aim to give our customers our most honest and practical product advice that are based on the latest products and information as well as years of work with seeds, cultivation, soil and farming.
Please use the Contact form on the right for Green Garden and Seeding Services information and ordering.