Highline Tank Product details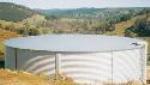 Product by:
Solar Pumping Solutions


Solar Pumping Solutions supplies and installation of solar pumpimg systems and associated products and offers a various range of commercial and domestic prefabricated Water tanks from highline Ltd. We are a 30 years of manufacturing experinence has ensured a superior water storage solution for the harsh Australian environment.

Solar Pumping Solutions professional team will deliver and install a Tank according to your individual requirements, we will ask you to pre-prepare the site.
Please use the Contact form on the right for Highline Tank information and ordering.
Other Solar Pumping Solutions Products
2 listed

Fixed arrays Solar Pumping Solution's fixed array's are supplied with all PS200 systems and will support up to 300 watts of Kaneka panels. Solar ... more »
pump –
pumps –
construction

Solar Pumping The German designed Lorentz Helical Rotor (HR) and Centrifugal (C) submersible pumps are designed specifically for solar and... more »