JCU International Students Product details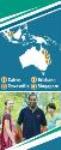 Product by:
James Cook University


International Students are welcome at James Cook University. JCU is one of Queensland's premier universities and Australia's leading tropical university.
Offering excellence in teaching and research, our main campuses are situated in Cairns and Townsville in northern Queensland, with extra campuses in Brisbane and Singapore.
With over 300 courses available across a wide range of academic areas, JCU offers something for everyone.
Please use the Contact form on the right for JCU International Students information and ordering.
Other James Cook University Products
1 listed

Graduate Research School The James Cook Universities Graduate Research School aims to enhance the quality of research training through policy... more »
Eco Research –
Eco School –
Eco Training Programs