Jayn Hobba Product details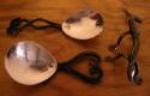 Product by:
MAD Sustainable Design


Jayn Hobba has worked as a blacksmith and occasional jewellery maker in MAD Sustainable Design. These occupations provides an opportunity for Jayn to fulfill some thoughtful ideas about life and Jayn's impacts on the world.
Jewellery making is a development of skills in the flaming world of the forge, the thumping of softer, more forgiving metals to create little pictures of the natural world around us.
MAD Sustainable Design chooses to utilize many recycled fundamentals in the designs which must have both convenient and practical purpose to make it into the world.
Please use the Contact form on the right for Jayn Hobba information and ordering.