New Skills For A Better Way To Build Product details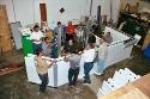 Product by:
Eco-Block Australia


At Eco-Block Australia, our trainers stand ready to help you build the skills that can take your career to an entirely new level.

It doesn't matter whether you're an Architect, contractor, professional or homeowner. If you're interested in learning more about Eco-Block Australia, you'll get all the fundamentals at our eight-hour seminar.

1. Construction,

2. Electrical and plumbing installation,

3. Interior and exterior finishes,

4. Environmental benefits,

5. Energy savings,

6. Safety

They cover up it all, hands-on.
Please use the Contact form on the right for New Skills For A Better Way To Build information and ordering.
Other Eco-Block Australia Products
1 listed

The ECO-Block ICF system merges the marvelous strength of steel-reinforced concrete with the filling properties of expanded polystyrene to create one of the most ... more »
Building –
Construction –
Eco Building