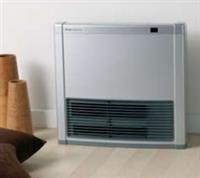 Product by:
SunWorks


When it comes to energy efficient Green Heaters, our team here at Sun Works recommend the Avenger 25 Convector - which is not only Rinnai's most popular model, but it is also the system with the largest gas heat output in our range.
Portable Gas Convectors are a highly efficient and flexible home heating solution. They are not only economical to run, but require no installation and can be stored away when not used.
The Rinnai Convectors use the latest gas burner technology to give you the cleanest portable heating for your home.
They really are clean to run. The portable convection heaters have been shown to produce less than half the emissions of the Australian Standard.
It also features an Economy Mode that gradually reduces the heat setting once the room has maintained the set temperature for 1 hour. This will help you saves gas and money.
Please use the Contact form on the right for Portable Gas Convector Heaters information and ordering.