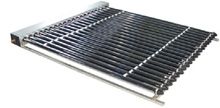 Product by:
Skyline Solar


Water heating is the biggest energy user in NSW homes. By switching from an electric to a climate-friendly Skyline Solar Hot Water, you can save an average of 2.5 tonnes of carbon pollution each year and up to $300 on your power bills.
A $300 cash back rebate is available for new gas, solar or heat pump hot water systems which replace an electric system.
The Federal Government have Rebates For Solar Hot Water Systems.
The upfront capital cost of a solar hot water system (including installation) is higher than electric or gas water heaters but savings on energy bills will compensate for this over time. In fact, many solar hot water systems pay for themselves in less than their warranty period.
However, a more important consideration is the environment and the pressing issue of global warming. A typical solar hot water system will save around 3 TONNES OF GREENHOUSE GASES every year compared to an electric water heater using electricity from a coal-fired power station.
Imagine what an impact that would have on our greenhouse emissions if every home had a solar hot water system installed.
For these reasons, Federal and State Governments are encouraging the adoption of greenhouse friendly hot water systems. Contact Skyline Solar to find what rebates apply and install a Skyline Solar Hot Water System today.
Please use the Contact form on the right for Skyline Solar Hot Water information and ordering.