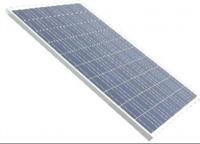 Product by:
Winsolar


One of the products we feature here at Winsolar is Risen Energy Solar Panels.
Risen Energy is well known as one of most most dynamic and fastest growing Solar Panel companies in the world.
The brand was named second place on Photo test for yield measurements last year - ahead of other major bands like Renesola and Q Cells.
They feature an advanced production line and automatic facilities to assure good stable n terms of quality. All modules are tested by EL tester twice before distribution - before and after lamination. This ways, potential defects in cells are often detected before leaving the factory. Because of this, Risen Energy modules are not only durable, but they tend to generate output.
It is also the first Chinese manufacturer to bring out positive tolerance modules. They are currently developing non-framing modules and black modules.
Currently the efficiency of Risen monocrystalline and polycrystalline solar cells can reach up to 18.5% and 17% respectively. At Risen Energy, there is currently research and develop on a new generation solar cells of whose efficiency can reach higher than 23%.
Please use the Contact form on the right for Top Solar Panel Manufacturer information and ordering.