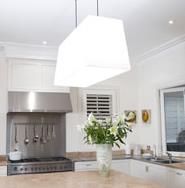 Product by:
Ausgrid


Here at Ausgrid, we love to provide the public with energy saving tips so they can be more efficient in their energy use.
When it comes to Lighting, the average household generally spends about 9% of their annual energy bills on lighting. Although it is not a massive percentage, you can easily save heaps just by taking a few simple steps.
Here we recommend making the most out of natural light and Eco Lighting. That is, CFLs use about 80% less energy and last around 10 times longer. In fact, we did some research and concluded that each CFL can save up to $20 per year. Standard halogen globes will use 30% less energy and last twice as long and this means that each year, you can save about $7 per globe.
When it comes to energy efficient lighting options - installing LEDs is the best solution.
Of course, if you don't want to redo all your lighting, you can simply turn off lights when not using them. About 26% of people leave lights on all evening in unoccupied rooms. Just by simply turning off your unused lights can make a big difference.
Please use the Contact form on the right for Ways to more Energy Efficient with Lighting information and ordering.