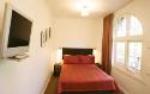 Product by:
Alto Hotel on Bourke


You find more space and quality facilities when you choose to stay in Alto Hotel on bourke's one bedroom appartment that includes a full kitchen, separate bedroom and two flat screen TVs.If you want some relief then like to stay in our 1 bedroom spa apartments.
Features of 1 bedroom Appartment of Alto Hotel Bourke:
a)Full Kitchen, including dishwasher, stove, oven, etc.
b)Separate bedroom with Queen size eco bed.
c)Top bathroom vanity with grenite.
d)2 LCD TV's with flat screen ,including foxtel and DVD
e)Desk have broadband and wireless internet connection.
f)Bedside and desk telephone, with in-dial numbers.
g)Tea & coffee making facilities and refrigerator.
h)Room Safe - large enough for an average-size laptop and digital camera
i)It also includes Airconditionig facilities and opening windows.
Please use the Contact form on the right for 1 Bedroom Apartment information and ordering.