110mm Ultrapanel products Product details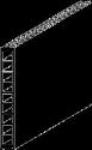 Product by:
Ultrapanel


Commercial and industrialized cladding is made easy with the Ultrapanel 110mm product. The 9 core Ultrapanel product provides outstanding thermal and acoustic properties, shared with the added advantage of achieving a 120/120/60 FRL (see our tech spec page). the 18 core 110mm Ultrapanel not only exceeds the thermals and acoustics provided by 9 core panels and it is also idyllic for firewalls.

Illustrate the adaptability of Ultrapanel, the 110mm product is appropriate for use as a commercial, industrial or domestic cladding, fence, feature wall or sound barrier.
The panel is 110mm thick, 600mm wide and extruded up to 7.5 metres in length. Weight of panel is 76kgs per square metre for the 9 core product, or it increase 89kgs per square metre for the 18 core panel, this product is cost effective moved around site and provides for hassle free installation. Ultrapanel can be installed by the trades erecting your portal frame, that , makes it time saving and cost saving.
Please use the Contact form on the right for 110mm Ultrapanel products information and ordering.
Other Ultrapanel Products
1 listed

80mm Ultrapanel product Ideal as a domestic cladding, fence, feature wall or sound barrier, the 80mm Ultrapanel product adds to the versatility of... more »
Tiles –
Eco Tiles –
Green Tiles