6 Sector Alarm Panel Product details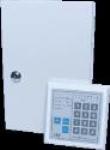 Product by:
Otek


A quality professional alarm system of Altronics now available on resonable price.

This system is more suitable for suburban Homes.

This 6 sector Alarm system supplied to us in two parts. The main controller which consists electronic and field wiring connections have steel lackable enclosure. The main controller basically installed in hidden areas like laundary cupboard etc.
Remote keypad which has modern design diffrent from old fashioned remote keypads is placed at both entry and exit point. After it is installed this can handle the whole alarm system.
User can alarmed and disalarmed the system by code. All system functions are conrolled directly by the remote keypad. All status such as batterylow, silent trip etc. is displayed on the keypad. This is eco sustainable design for modern homes.
Please use the Contact form on the right for 6 Sector Alarm Panel information and ordering.