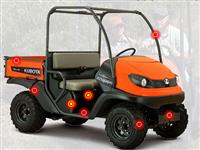 Product by:
Alice Springs WaterShed


At Alice Springs WaterShed we feature the RTV400Ci - a popular utility vehicle used for Agricultural purposes.
The RTV400Ci incorporates a new, high revving 16HP air-cooled, single cylinder gasoline engine that was selected to meet Kubota's stringent performance specifications and durability requirements. This engine also features an electronic fuel injection system that helps eliminate cold starting issues and annoying manual choke adjustments that plague competitors' carbureted utility Vehicles.
It also features a newly designed CVT Plus with Inertial Clutch - which is virtually worry free. This Clutch keeps the thick, double cogged belts tight for minimal slippage, resulting in greater response and much better durability than any other belt drive systems.
The Clutch also provides noticeable dynamic braking to help maintain control during descents with engine assisted deceleration.
Please use the Contact form on the right for Agricultural Utility Vehicle information and ordering.