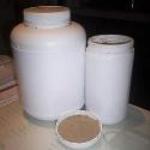 Product by:
Happy Planet


No other plant includes the essential oils required for great health in a ratio exactly appropriate to the bodies needs.

Happy Planet a natural and delicious concentrated Australian hempseed protein powder have complete proteins and Essential Omegas created using patented Australian milling technology - no chemicals, no heat, no light, no oxygen - producing a Pure hemp protein without any preservatives.

A fine golden protein powder (less than 40 Microns) produced from Australian grown hempseed using patented technology that guarantees the integrity of the amino acids and necessary fats.

Australian Hempseed Protein Powder can bring any diet with an simply digested vegetarian source of essential fatty acids, antioxidants, vitamins, minerals, fiber, chlorophyll and a total, balanced gluten-free source of the essential amino acids.

Happy Planet Hempseed protein Powder is chosen for many reasons - it includes omegas 3, 6 and 9, boosting energy/circulation; improved clarity of the mind; body Builders for muscle bulk; athletes for better performance; to boost the immune system; complementary hormones; curbs sugar cravings; get better skin, Hair and nail condition. Great source of easily digested protein for vegetarians.

You can put it in to dry, wet, cooked or uncooked food. Hempseed protein powder combines well into juices, milk, smoothies, and/or probiotics, cereal, yoghurt, or whatever cool-warm food/drink takes your fancy. Add Happy Planet's agave syrup for a smooth sweet taste and/or add aloe vera juice and/or chlorophyll for an extra boost (energy).

Take one teaspoon every morning for daily dose of protein.

For athletes, body builders, take 1-heaped teaspoon in morning, and 1-heaped teaspoon after training for fast recovery of muscles.

Whether you are vegan, vegetarian or a carnivore, whether you are young or old, active or sedentary, Happy Planet's Australian Hempseed Protein Powder is a tasty way by which you can complete your body's protein needs. Remember - no additives or preservatives, just pure hempseed - so store in fridge.
Please use the Contact form on the right for Australian Hempseed Protein Powder information and ordering.