Australian Wildlife Lectures Product details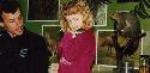 Product by:
Australian Wildlife Lectures


Australian Wildlife Lectures shocases the following types of displays:
1. Common Australian Wildlife display with live & protected reptiles, spiders, birds, mammals & sea-life.
2. General display in Natural Bush Setting interactive shows and photographic display.
3. General display PLUS Killer Whale skeleton and other whale specimens.
4. A display of animals that appropriate to a theme of your choice
Please use the Contact form on the right for Australian Wildlife Lectures information and ordering.