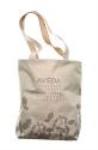 Product by:
Aveda Experience Centre - Chadstone


Aveda Experience Centre's Chadstone Company offer a product named Aveda Reusable Organic Cotton Tote Bag, which helps to save nature and save money. Get your 10 cents on Aveda purchase and assist in saving and protecting forests, birds and marine life each time you use our tote in the place of paper or plastic bag.
The tote bag is prepared from Fox FibreTM 100% organic cotton which has the color grown in naturally.
Some of the issues faced by using non-organic bags such as plastic are:
- Plastic causes death in around 1 million birds
- 100,000 marine animals are strangled or get entangled by these bags yearly
- Studies explain annually, In the U.S. alone 14 million trees were cut down to produce paper bags.
Please use the Contact form on the right for Aveda Reusable Organic Cotton Tote Bag information and ordering.