Avk Fire Hydrant Pn 16 Product details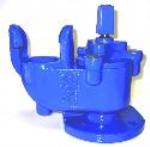 Product by:
AVK Australia


AVK Australia's AVK FIRE for water and neutral liquid applications is the controlling device, which is designed for use up to 70 degreesC where valid for AS 4020. It is in compliance with a maximum temperature of 40 degreesC.
Note: AVK Australia Always monitor pipe material recommended operating temperatures. Insulation essential for installations matter to temperatures of 0 degreesC and lower.
Please use the Contact form on the right for Avk Fire Hydrant Pn 16 information and ordering.
Other AVK Australia Products
1 listed

AVK Australia to provide a universal leak repair clamp.... more »