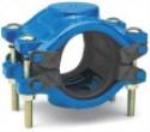 Product by:
AVK Australia


AVK Australia provide leak repair clamp all over the world. The clamps are designed for a working water pressure of 16 bar maximum and a working gas pressure of 7 bars maximum.
AVK Australia's universal colar (Saddles) has the followings Materials:
- Plain halves Ductile iron, GGG-40, to DIN 1693 (BS 2789 grade 420-12)
- Coating Electrostatically applied epoxy resin to WIS-4-52-01 - inside and on the outside
- Domed head Grade 8.8, zinc coated and square neck bolts passivated
- Domed head Plastic Nuts Hexagon, grade 8.8, zinc plated and passivated
- Washers Zinc plated and passivated
Please use the Contact form on the right for Avk Universal Colar (Saddles) information and ordering.