Baby Shampoo Product details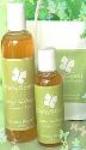 Product by:
BabyScent® - Natural Skincare


BabyScent - Natural Skincare company provide a special Baby Shampoo (Sulphate free) which has been carefully prepared for your baby.
Use of Natural and Organic Herbal Extracts, and other mild ingredients like Aloe Vera gel and Avocado Oil help to protect and care for your baby's delicate skin while your baby is happy and enjoying your nurturing touch in bath time, We can also make sure that BabyScent products are at all times gentle for your little one.
Please use the Contact form on the right for Baby Shampoo information and ordering.
Other BabyScent® - Natural Skincare Products
1 listed