Bamboo Fencing Product details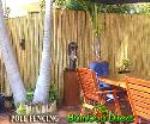 Product by:
Solar & Bamboo Direct


Bamboo Directs Bamboo pole fencing is now presented in two thickness: - our traditional 20mm and 25mm pole or the new wider 35mm poles. All the pole fencing comes with inner stimulated wire that is threaded through the poles every 300mm. This gives you a very sparkling finish that is perfectly appropriate for coastal applications.
Bamboo Directs Bamboo poles are bleached and prepared to be treated with an anti fungal relevance before sealing or painting. When left untreated, as with other natural timbers a graying off will arise.
Painting is a well-liked option and is possible with any good quality external house paint.
Please use the Contact form on the right for Bamboo Fencing information and ordering.
Other Solar & Bamboo Direct Products
1 listed

Bamboo Direct's Bamboo furniture offers strong and natural bamboo stair slabs.... more »
Bamboo –
Eco Green Furniture