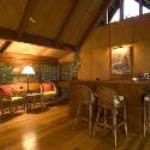 Product by:
House of Bamboo


House of Bamboo Flooring is environmental friendly, as the bamboo is plantation grown, sustainable and renewable. It has a good-looking natural finish and is harder and more stable than other Timber. It is vermin proof and quick, simple and easy to install.
House of bamboo flooring available in three versions of construction: horizontal, vertical and woven. The pattern on the flooring varies according to the way of construction. Every of these three construction versions come in either the light natural bamboo or the carbonized bamboo- a more ochre, a little darker shade, resulting from the carbonizing curative of the bamboo. The bamboo flooring boards arrive in a tongue and groove profile, allowing them to be connected directly or to be secret nailed to the sub floor. The boards contain many coats of a premium German finish for best protection.
House of Bamboo offers a bamboo flooring at a good price with quality insurance. The flooring can be installed by your self or your own tradesperson or our experienced sub-contractors also can install bamboo flooring. Accessories such as Flush Reducers, Quarter Rounds, Stair Nosing and Wall Skirting and bonding adhesive also available to us.
Please use the Contact form on the right for Bamboo Flooring information and ordering.