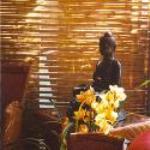 Product by:
House of Bamboo


House of Bamboos's Bamboo fencing materials make perfect screens from outside and inside. These screens are excellent for showing a part of the garden to hide unsightly facility areas such as garden sheds, car ports, washing lines, hot water tanks etc or for achieving privacy.
Frequently the bamboo fencing materials can build a feature element in a garden, deck or patio area to create privacy in just the section needed. Otherwise, they can screen off a laundry or a computer workspace in your home or apartment. Shops, restaurants and resorts also utilize these materials creatively for screening.

Screens can be building up from any of our bamboo fencing materials, or ready-made screens can be purchased straight.
The bamboo rod screen collection works fine outdoors and indoors for moveable screens, which can curve and conceal. House of Bamboo's Natureed Multifunctional (M.F.) Screens are double layers of Natureed held within smart modern metal frames in a portrait or landscape figure.
On the other hand, it is not hard to custom make a screen for any setting. Some screens can be hung sideways to give regular screening or create a required effect.


Please use the Contact form on the right for Bamboo & Reed Screening information and ordering.