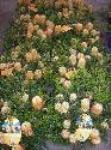 Product by:
Austraflora


Austraflora's Banksia Cherry Candles is an exceptional designer plant. It is a dense, dwarf shrub (35cm x 50-60cm) with neat dark foliage, bearing massed displays of nectar-rich golden-orange candles in late summer to winter. Cute little light green buds seen in early summer, with a long anticipation period as they progressively make bigger to full glory in autumn.
Austraflora's Birthday Candles grows well in the garden (up to 45cm x 50cm) or in a container (up to 35cm x 60cm). It flourishes in temperate to sub tropical or semi arid climates, and is best in full sun or light shade in moist well drained soils, neutral to acid pH. Tolerant of light frosts, it is also particularly suitable for coastal gardens.
Uses: This is a designer's joy. It is a dramatic plant in an ornamental container, or may be planted in the ground alone or in groups for a spectacular display. In addition to its impact on the human eye, it is extremely striking to honey-eating birds, adding to its attractiveness in the garden, or as a courtyard or patio plant in a container.
Please use the Contact form on the right for Banksia Cherry Candles PBR information and ordering.