Barrierflex Product details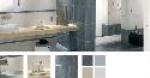 Product by:
Beaumont Tiles


Beaumont Tiles company offer a product Barrierflex waterproof and flexible Adhesive for internal and external fitting of ceramic tiles.
Beaumont Tiles' Barrierflex is a technological breakthrough from the ABA Development Laboratories in that it is a really elastomeric ceramic tile adhesive.
Barrierflex includes a unique mix of polymers and special powders that provides very low shrinkage and superb adhesion features.
Barrierflex is greatly long-lasting and is usable in humid, wet and excessive climates. It can be used for wall cladding and installation of ceramic tiles, marble, granite, slate and stone. We can use it over a range of surfaces on both walls both inside and outside.
Please use the Contact form on the right for Barrierflex information and ordering.
Other Beaumont Tiles Products
1 listed