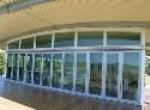 Product by:
Architectural Windows & Doors


Architectural Windows & Doors's Bi-Folds attach the indoors and outdoors like no other door. If you have panoramic views or an outdoor entertainment area, consider sincerely about installing Bi-Folds.
Architectural Windows & Doors' Bi-Folds have the benefit of heaping out of the way for unhindered access. Doors can stack to one side only or, for multiples, to both sides.
Smooth, simple opening and closing is guaranteed with a bottom-roller system that carries the door weight on the sill instead of at the top of the frame permitting high-lights to be attached above. Also as there is not requirement to improve the lintels for renovations.
A good idea is to include a hinged door in a Bi-Fold door set, which permits for fast and well-situated exit or entry by avoiding opening up the Bi-Folds.
Our top-hung Bi-Fold window is one of the toughest available on the market and is a perfect option for over bench-tops.
Please use the Contact form on the right for Bi-Folding Windows & Doors information and ordering.