Black Rock Home Product details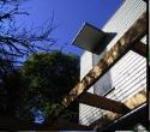 Product by:
Baker Drofenik


Baker Drofenik offer solid black rock home reinstated and renovated with new first floor bedroom wing added. Original building footprint is also retained to preserve the outdoor areas.
New timber pergola produce shade in summer and permit solar access into living spaces in winter.
Openable skylight at top level permits hot air to escape from floor spaces in summer. Natural light is also increased in the existing living room through new north facing windows.
Please use the Contact form on the right for Black Rock Home information and ordering.
Other Baker Drofenik Products
1 listed

Baker Drofenik Architects is an architectural practice aiming to produce modern environmentally suitable architecture.... more »
Eco Architect –
Eco Building