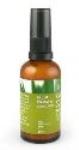 Product by:
Organic Beauty


Organic Beauty World, we plan to make it simpler for you to get natural, green, fair trade, organic and Certified Organic products in the one spot.
Enhanced with Olive Squalene and suggested for oily and blend skin types, Boost is a light, concentrated day and night moisturising treatment, with anti-bacterial properties.
Without congestion the pores it is speedily monitored to hydrate the skin.

Efficient as a men's aftershave lotion

Non-clogging and non-oily

Perfect for under make-up

Light formulation with highest coverage

Locks moisture into the skin using Olive Squalene

Leaves skin feeling revitalised, agile and soft

Soothes trivial shaving irritations

Enhances skin elasticity

Relieves and calms the skin

Softens the skin, smoothing fine lines

Firms, uplifts and offers a healthy glow

Purified water, Aloe Vera extract, plant squalane, jojoba oil, lecithin, palm stearine, glycerin, sorbitol, cetyl phosphate (palm oil derived), , echinacea extract, horsetail extract, citrus seed extract, xanthan gum, potassium sorbate, calendula extract, chamomile extract French Lavender oil, Lemon-scented Tea Tree oil, Vitamin E acetate.
Organic Beauty World, was established in 2006 in reply to the pure hard work of trying to find in one place, high-quality organic products that cover cosmetics, personal care and nutrition.
Please use the Contact form on the right for Botani Boost Balancing Moisturiser information and ordering.