Build On Solid Foundation Product details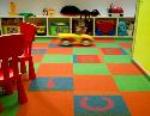 Product by:
InterfaceFLOR


With 30 colours available for you to select from, InterfaceFLOR's Solid Foundation range of modular Carpet truly is the base for a broad range of looks.
From sophisticated neutrals to spunky hues, any colour you chose, Solid Foundation is the great companion to accent an extensive variety of InterfaceFLOR's product ranges.
Yet you chose one colour to install form a wide range, the delicate texture shows intensity and prosperity. However, with so many different colours available, you can mix them up to create grouping of stunning patterns.
Please use the Contact form on the right for Build On Solid Foundation information and ordering.
Other InterfaceFLOR Products
1 listed

Interface FLOR's 1968 collection. With six unique patterns showcasing different preparations of geometric shapes and lines, this... more »
Eco Business –
Green Companies –
Eco Design