Caladenia Ridge Product details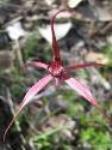 Product by:
Nature Conservation Trust of NSW


Find privacy in wider then one hundred hectares of bush, but only ten minutes far from your favourite cafe.

Nature Conservation Trust of NSW provide a cafe named Caladenia Ridge which is situated in the upper end of the Splitters Creek catchment, and is about 5kms to the banks of the Murray River.

The exceptionally rare Crimson Spider orchid is found on the Nature Conservation Trust of NSW's Caladenia Ridge, within a vegetation type that is exclusive to the Nail Can Ranges, surrounding a mix of white box and Blakely's red gum woodland, and red box and stringybark forest.
Please use the Contact form on the right for Caladenia Ridge information and ordering.
Other Nature Conservation Trust of NSW Products
1 listed