Cleaning & Maintenance Product details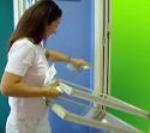 Product by:
CertainTeed


For fast, secure Cleaning CertainTeed's Cleaning & Maintenance products are used for:

Glass
Clean the glass from inside and out as regular. The gap between panes is hermetically preserved against dust and moisture, so never requires cleaning.
Sashes and frames
An easy wash with soapy water will remain your uPVC frames seems new for decades. If essential, you can scrub this rough material to get rid of bird droppings or other stains. CertainTeed windows and doors are easy or simple to live with and tough to damage.
Please use the Contact form on the right for Cleaning & Maintenance information and ordering.
Other CertainTeed Products
1 listed

CertainTeed's custom shaped glazing allows all sorts of glazing designs to be implemented.... more »
Eco Architect –
Eco Glazing