Colllection & Delivery Product details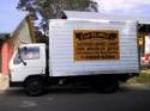 Product by:
The Bower Reuse and Repair Centre Co-operative


Centre Co-operative are reused and repaire by The Bower can arrange to gather your unnecessary goods for free! (Though many customers do feel happy to make a $5 donation, which certainly helps hugely with the cost of running our truck)

However, as we are small and have narrow space there are

Some things we can't take. We can only pick up in a limited area because we have only one truck, on three days a week. To get more information Contact the Bower Reuse and Repair Centre Co-operative. people are more than welcome to donate by calling first, then bringing in their Recycled goods during retail opening hours. Please bear in mind, that while we can take goods at the door, it does remain at our carefulness.
Please use the Contact form on the right for Colllection & Delivery information and ordering.
Other The Bower Reuse and Repair Centre Co-operative Products
1 listed

The Bower Reuse and Repair Centre Co-operative completed some of the first strawbale buildings.... more »
Strawbale –
Sustainable Building –
Recycling