Concorde Smartflush Product details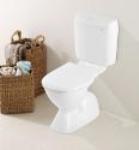 Product by:
Water Saving Technology


Caroma Dorf's Concorde Smartflush is a new creation in water-saving technology sanitaryware product, the Concorde Concealed pan uses Caroma Smartflush technology to deliver a 4.5/3 litre dual flush vitreous china toilet suite system when coordinated with a 4.5/3 Litre Cistern (recommended Sovereign 2000 Smartflush cistern).
The colurs are as follows in which Caroma Dorf's Concorde Smartflush product is available.

a) White

b) Ivory

Colours are indicative only
Please use the Contact form on the right for Concorde Smartflush information and ordering.
Other Water Saving Technology Products
2 listed

Autowasher upgrade Water Saving Technology's auto-washer - Is The New Marolex Product Intended For Washing Cars, Vans, Motorhomes,Caravans, Boats... more »
Cleaning –
Cars –
Home Cleaning

Water saving The use of water for cities and irrigation has depleted many of our waterways and water restrictions are now a common part of life ... more »
eco appliances –
water –
dishwashers