Cyclamen Bowl Relaxing Bathe Gift Product details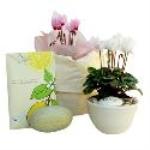 Product by:
Growing Gifts


Beautiful Growing Gifts by Miller & Brown
For that special person.
The Cyclamen is a great plant for colour in the autumn, producing flowers all through the cooler months. Ideal placed indoors or on a protected balcony or patio with no direct sunlight. There is no direct sunlight comes to the patio, protected balcony, and Perfect indoors.
This jolly little plant comes in a ceramic bowl with a ceramic stamped sensitive pebble, all hand made exclusively for Growing Gifts. This gift is a sachet of Miller & Brown Lemon Refresh bath soak having 2 x 40gm serves of essential oil bath soak and a Miller & Brown triple milled exfoliating Soap?
Please use the Contact form on the right for Cyclamen Bowl Relaxing Bathe Gift information and ordering.
Other Growing Gifts Products
1 listed

Rose Chalk Box Gourmet Gift This is a stunning gift for any occasion by Growing Gifts by Miller & Brown! What better way to say you care than a... more »
Eco Gifts –
Eco Stores –
Eco Wood