Daisy Lamp Product details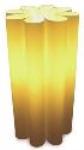 Product by:
ibuTrade


The ibuTrade's Daisy Lamp by Sydney designer Simon Goldstein of Electric Firefly is naturally Art Deco in shape. With a stylishly modest method that will balance a variety of interiors, the Daisy puts in that contact of elegance to leave any room.

Simon makes use of an Australian prepared polymer sheet that is 30-50% recycled creation. ibuTrade's Daisy Lamp is in natural static (non-reactive) and fully non-hazardous, with no plasticisers, chlorine, bleachable apparatus or weighty Metals used in the completed product or throughout construct.
Please use the Contact form on the right for Daisy Lamp information and ordering.
Other ibuTrade Products
1 listed

Our products are designed in Australia and brought to life by traditional women artisans from the remote desert communities of the Rann of Katchchh, Western Gujarat, ... more »
Recycled Art Company –
Australian Eco Interiors –
Eco Art