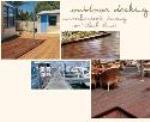 Product by:
Shiver Me Timbers


Shiver Me Timbers producers Decking from recycled Construction Timber and salvaged timbers from all over Australia.
Toughness should be the major worry when selecting a deck to make sure the decking furnishes as long a service as likely Usually talking, division 1 & 2 hardwoods are appropriate for this outside use. Jarrah, blackbutt, ironbark, are just some of the classes obtainable for decking material.

Shiver Me Timbers are expert in wide board heavy decks starting at 130mm wide upto 260mm wide.
Please use the Contact form on the right for Decking information and ordering.