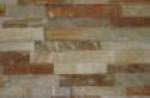 Product by:
DecoR Pebble Aust.


DecoR Pebble Aust. Stone's new choice of Stacked Stone is an amazing contemporary shell that is ideal for emphasizing keeping walls, pillars and water features for both outer and inner functions.
DecoR Pebble Aust's Stacked Stone is prepared of natural slate stone that is buoyant weight and size, permiting for easy fitting, while giving to an perpetual design with a sole experience.

The DecoR Stacked Stone series comprises six colours, offering outstanding ambiences. Individual panels measure 600x150mm each and are 20-40mm thick. DecoR Stacked Stone colours of Alpine, Russet, Onyx, Bisque, Ivory and Shimmer are guaranteed to balance any wall casing.
The rough and stony facade trait of the colour Shimmer, holds very small glow shiny atoms that create a fragile gleam that makes a charming bait, chiefly beneath brightness. This is a long lasting and best building material that hands over design suppleness.
Whether your design requires emphasis or a whole wall armor, DecoR Stacked Stone is the true option. With the new assortment designers and Architects are intelligent to make softer the border between inner and outer areas.

The power and width of the material makes it a just right material for bring into play on keeping hold of walls.
Please use the Contact form on the right for DecoR Stacked Stone information and ordering.