Deflector Trap Product details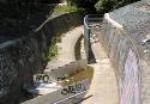 Product by:
Baramy


Baramy's Deflector traps needs no headloss and builds service of any centrifical forces functioning on the water flow to help the deflectors in unraveling the pollutants from the flow. This follows our first design decisive factor "Let the Water do the Work..."
Baramy only one of its kind design needs deliberately located horizontal deflector units sited at varying heights to guide pollutants toward the outside of the channel & into a holding bay located either inside or beside the channel. Vertical vanes may also be used to addition and increase the capture efficiency.Water pressure will keep the captured pollutants contained and will drain dry upon abatement of the flow.
Please use the Contact form on the right for Deflector Trap information and ordering.
Other Baramy Products
1 listed