Durability Product details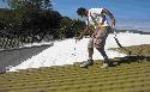 Product by:
Green Painters Association


All
Paint
scheduled on the GreenPainters. It is an Association of web-site which convenes Australian standards. In this Association stability can be considered by using tests threw the following resistance: -
1. Wash ability,
2. Fade resistance,
3. Colour retention,
4. Abrasion resistance,
5. Resistance to saliva,
6. Mild acids and sweat
7. UV resistance (for exterior paints),
Even though plant-based wall paints do not present the same permanence rating as acrylics, this is frequently due to their substandard abrasion resistance and wash ability. However, plant/mineral depend on the paints which will not blister or peel as simply as acrylics
Please use the Contact form on the right for Durability information and ordering.
Other Green Painters Association Products
1 listed

'Green paint' is a term which can be loosely applied to many different products, and it can be very confusing. Here in Australia there are many compan... more »
Paint –
Eco Paint –
Green Painters