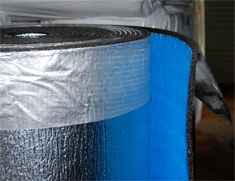 Product by:
Reflex Insulation


E-therm is a "4 in 1" solution replacing traditional foil sarking, bulk fibre and acoustic insulation while also actingas a thermal break with one easy application. With innovative foam technologyincorporated in the product along with highly reflective aluminium foil, E-thermis fibre-free, non-toxic and non-allergenic. This presents a clean, safeand effective alternative to conventional types of insulation that can losetheir effectiveness over time.
E-therm works by reducing heat transfer in3 ways:
1. Reflectivity: E-therm reflects up to 97% of radiant heatensuring you are kept cool in summer and warm in winter. By re-radiating heat,E-therm keeps energy loss to a minimum, reducing heating and cooling costs. 2.Low Conduction: The specially developed foam reduces heat transfer throughclosed cell air pockets. 3. Low Convection: E-therm traps still air andreduces the event of convection occurring.
By choosing E-Therm you put the environment FIRST as the product will greatly reduce cooling and heating costs.This helps achieve high energy star ratings, lowering greenhouse gas emissions.
E-Therm is Australian made and nottransported from overseas, a further reduction in harmful greenhouse gasemissions.
E-therm also contributes to reducing it's carbonfootprint, by utilising an in house recycling facility, and incorporating up to80% recycled foam content in the product.
By choosing E-Therm you are maximizingboth energy savings and environmental benefits for the whole life of thebuilding, which will not only benefit the planet but also create long termenergy cost saving solutions for you!
E-therm benefits:
• Effective Thermal and Acoustic Insulation
• Made using Recycled materials
• Made in Australia
• Fibre free - safe to install
• Insulation lowers your carbon footprint
• Meets or exceeds Australian Standards
• Will not absorb moisture
Please use the Contact form on the right for E-therm information and ordering.