Eco Retail Space Product details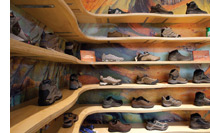 Product by:
EcoBooth


Eco Retail Space is by Exhibiting Green. Explore our complete Exhibiting Green website. Our designers love getting quirky requests and enjoy stretching their imaginations.
If our current Eco Retail Space range does not fully meet your needs our custom design department would love to hear from you.
Let us know what you require in regards to Eco Retail Space. If they take your designs onboard and they meet our specified criteria, your piece of display or furniture item could end up in our catalogue earning you a royalty fee.
Contact Exhibiting Green for your Eco Retail Space needs.
Please use the Contact form on the right for Eco Retail Space information and ordering.
Other EcoBooth Products
1 listed

Eco Booth-in-a-Box by Exhibiting Green custom design options provide low cost eco friendly display stands utilising the best choice of quality materials availab... more »
Eco Exhibitions –
Eco Marketing –
Green Exhibitions