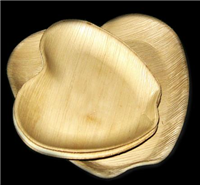 Product by:
Naisha Enterprises


Earthens Dinnerware are made from shredded leaves of
Areca Palm Tree. They're 100% natural, sturdy &
stylish.
Earthens are available in all shapes & sizes i.e. round, rectangle, hexagon, square, oval, quadral & pomaceous.
Available Sizes: 7cms. to 25 cms.
If you would like any particular shape or even your own logo on your plates, please contact us to see what we can do for you.
Our compostable, sturdy, elegant and unbeatable stylish bioplates are suitable for all catering occasions:
1. Birthday parties, Picnics, Barbeque and Family Occasions
2. Weddings
3. Chef's presentations
4. Road trips and camping-hiking adventures
5. Restaurant Take-Away
6. Corporate Events and more
Please use the Contact form on the right for Eco Wedding Dinnerware information and ordering.