Engineering Consultancy Product details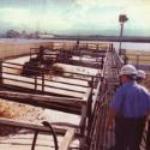 Product by:
Simmonds & Bristow


Simmonds & Bristow's has widespread experience with Environmental Waters and Soils.
Our Engineering consultancy team has successfully designed and commissioned a variety of treatment plants in Queensland, including municipal Water treatment plants, Sewage Treatment plants, trade waste treatment plants, reverse osmosis plants and pool treatment systems.
These Water Supply and Waste Water Treatment Plants has enabled the development of a full range of services to meet the Simmonds & Bristow increasing demands of industry, government and remote communities.
Please use the Contact form on the right for Engineering Consultancy information and ordering.
Other Simmonds & Bristow Products
1 listed

Chemical Laboratory Simmonds and Bristows state of the art laboratroy is NATA Registered for the majority of analyses performed on waters, waste... more »
Eco Research –
Green Research –
Research