Enviro Decking Product details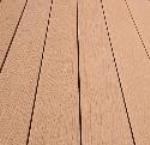 Product by:
Enviro Wash


Bamboo Select's CleverDeck is made from recycled HDPE (old milk bottles and other post consumer plastic waste) and discarded rice husks or hulls making it one of the most environmentally friendly Decking options available. The motive for the marketing of CleverDeck was to build in value so that a consumer aiming to make a positive environmental decking does not have to be financially disadvantaged. This decking is designed to allow the choice of an environmentally sustainable and almost a maintenance free decking all in one. Now forget rainforest Timber deck with all of its associated environmental concerns and maintenance issues comfortable in the knowledge that you have made an economically sound decision that won't hurt the environment!

CleverDeck comes in 4 standard colours- Saltbush, Slate Grey ,Mahogany and Walnut. It is available in lengths of 5.4 metres and all the boards in each pack are the same length and come with a 10 year warranty against rotting and white ants/termite attack.
Please use the Contact form on the right for Enviro Decking information and ordering.