EnviroWash GP (General Purpose Cleaner) Product details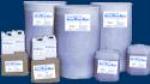 Product by:
Envirowash


EnviroWash GP is the one solution that is: a glass & mirror cleaner; a bench cleaner; a floor & wall cleaner; a dishes cleaner; a stainless steel cleaner; a bathroom & toilet cleaner; and so onwith it's unending possible applications.
The super concentrate in EnviroWash GP is made up of various Cleaning agents that have been combined to form one solution.
It is only the most recent advances in formulation technology that has enabled the cost-effective production of a super concentrate, whilst still being safe for people and protecting the environment in which we live.
EnviroWash GP uses the latest scientific advances and formulations to create a product that is made from a combination of proven, natural, biodegradable surfactants.
Please use the Contact form on the right for EnviroWash GP (General Purpose Cleaner) information and ordering.