Environmental Research And Volunteering Program Product details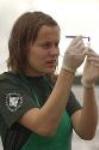 Product by:
Natural Resources Management


Environmental Research and Volunteering Program aims to provide actual Eco Research experience for tertiary students studying in the environmental and biological science fields. This allows students to experience the challenges and rewards of scientific field research whilst widening their professional networks and improving their teamwork and communication skills.

During an Earthwatch project tertiary students are able to observe the interface between science, natural resource management and the community. They are given the opportunity to work with researchers outside of their own university and are exposed to a range of career models within the sciences. The experience promotes to young adults the value of volunteering and an understanding of how individuals can make practical contributions to the public good.
Please use the Contact form on the right for Environmental Research And Volunteering Program information and ordering.