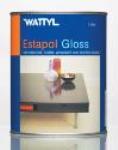 Product by:
Wattyl Australia


Wattle Australia's Estapol has been one of Australia's favourite clear timber finish for over 45 years. Especially developed for Wattle Australia's unique conditions, there is an Estapol product to add beauty and to protect a multitude of interior and exterior timber and other surfaces.
Products include:

- specialised products that will deliver both high durability and low maintenance finishes for floors

- Estapol Gloss, Satin and Matt for general interior use

- Gloss Slate Finish for slate, clay pavers, brick, sandstone and concrete

- water based clears for general use and for floors
Please use the Contact form on the right for Estapol information and ordering.