Eye Treatment Cream Product details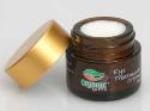 Product by:
Organic Earth


Organic Earth's Natural and Effective Organic pet Skin Care range includes: cleansing shampoo bars, Equine and Canine care with Certified Pure Organic Ingredients such as Lavender, tea tree, peppermint, olive oils and vitamin E, a super shine with no nasty chemicals, fragrance or parabens. This eye cream can be used daily to help soften and help prevent lines, wrinkles and dark circles - with pure Organic Rosehip Oil ,A, D & E.

Organic Earth contributes every month to support this great organisation.
Please use the Contact form on the right for Eye Treatment Cream information and ordering.
Other Organic Earth Products
1 listed

Various varieties of Organic Earth's Natural and Effective Organic pet skincare which includes: Cleansing shampoo bars, A super shine, Equine and Canine care with ... more »
Green Skincare –
Natural Ingredients –
Natural Skin Care