Firefly Beer Product details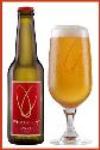 Product by:
Ocean Watch Australia


Firefly Beer flavours are engineered to be the perfect match to any spicy dining occasion.
Firefly Beer is the conclusion of over six months of research to identify the ingredients, brewing methods and finished beer characteristics that best suit spicy flavors. The researched elements have been carefully combined to produce a beer of adequate weight and flavour to balance spicy foods. Firefly Beer allows lovers of spicy foods to gain greater enjoyment out of every sip and bite.
Please use the Contact form on the right for Firefly Beer information and ordering.