Fish Emulsion Product details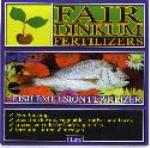 Product by:
Fair Dinkum Fertilizers


Fair Dinkum Fish Emulsion is an organic based nitrogenous fertilizer with no chemical nutrients added and is suitable for general use.

How to use

Plants Dilution Rate Fish Emulsion / water Comments

Flowers l00mL/l0L Apply every two weeks in growing season

Fruit & Vegetables l00mL/l0L

Apply every two weeks in growing season. Do not use on root crops later than 2 weeks after emergence

Lawns l00mL/l0L Apply every four weeks when grass is growing. Do Not apply if grass has browned off until fresh growth is established.

Natives & Ferns 50mL/l0L Apply every one to two weeks in spring and early summer
Safety Directions:

Seek medical advice if swallowed.

Wash hands immediately after use.

Avoid contact with clothing or skin.

Wash off any spilt product immediately as odour will cling.

Wash contaminated clothing.

If splashed in eye wash with clean water for at least Five minutes.
Please use the Contact form on the right for Fish Emulsion information and ordering.